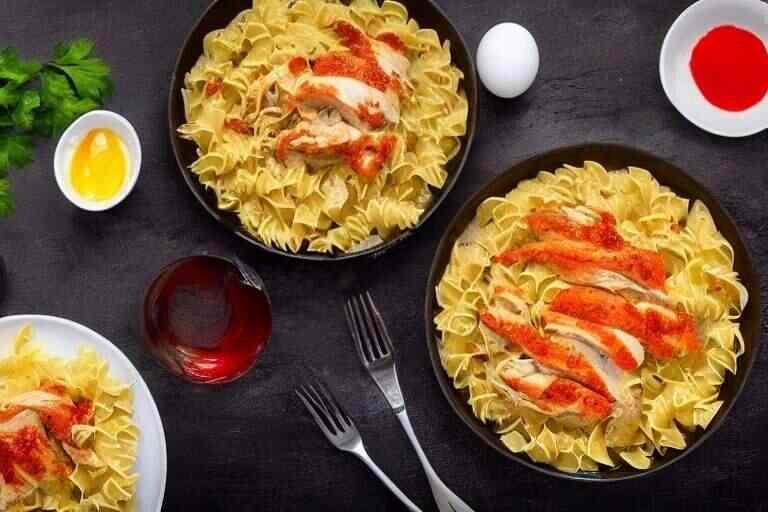 A Taste of Hungary: The Origins of Chicken Paprikash
Chicken paprikash or paprikás csirke in Hungarian, has a long and storied history dating back to the 18th century. Its roots can be traced to the Hungarian plains, where paprika, the star ingredient of this dish, was cultivated and widely used in cooking. Paprika is a spice made from dried and ground peppers, and it imparts a deep red color and a distinct, smoky flavor to the dish.
The use of paprika in Hungarian cuisine is said to have been influenced by Turkish and Balkan cooking traditions, which introduced peppers to the region. Over time, Hungarian chefs refined their use of paprika, and chicken paprikash emerged as a classic and beloved dish.
The Irresistible Charm of Chicken Paprikash: A Hungarian Culinary Gem
Hungarian cuisine is a treasure trove of flavors and traditions, and one dish that stands out as a true gem is chicken paprikash. Also known simply as paprikash, this hearty and flavorful dish has captured the hearts and taste buds of food enthusiasts around the world.
We'll take a closer look at the rich history, ingredients, and preparation of chicken paprikash, celebrating its role as a beloved Hungarian culinary masterpiece.
Serving Chicken Paprikash: Tradition Meets Modern Palates
Traditionally, chicken paprikash is served over a bed of egg noodles or spaetzli, a type of soft egg noodle. The creamy, paprika-infused sauce coats the tender chicken pieces, creating a harmonious blend of flavors and textures.
For a modern twist, some cooks serve it with rice or mashed potatoes, which soak up the delectable sauce just as well. A garnish of fresh parsley or chopped chives adds a burst of color and freshness to the dish.
The Legacy of Chicken Paprikash
Chicken paprikash has transcended its Hungarian origins to become a beloved comfort food worldwide. Its rich, flavorful sauce and tender chicken make it a comforting and satisfying dish for any occasion.
Whether you're exploring Hungarian cuisine for the first time or revisiting an old favorite, it is sure to delight your taste buds and leave you craving more of its heartwarming flavors. Give it a try in your kitchen, and savor the magic of this Hungarian culinary gem.
Chicken Paprikash is nothing less than a culinary gem
It is a traditional Hungarian dish that is made with tender chicken in a rich paprika-infused sauce. It is typically served over fluffy egg noodles. The dish is said to have originated in the 18th century, and it is now a popular dish throughout Hungary and other parts of Central Europe.
The name "paprikash" comes from the Hungarian word "paprika", which is a type of chili pepper. The paprika used in it is typically sweet paprika, which has a mild flavor. However, some recipes also call for hot paprika, which has a spicier flavor.
The chicken in it is typically boneless, skinless chicken thighs. The thighs are browned in oil before being added to the sauce. This helps to seal the juices and prevent the chicken from becoming dry.
The sauce for chicken paprikash is made with paprika, flour, chicken broth, and sour cream. The paprika gives the sauce its characteristic flavor and color. The flour helps to thicken the sauce. The chicken broth provides the liquid base for the sauce. The sour cream adds a touch of richness and creaminess to the sauce.
It is a hearty and flavorful dish that is perfect for a cold winter day. It is also relatively easy to make, making it a great option for a weeknight meal. So if you are looking for a delicious and comforting dish to try, be sure to give chicken paprikash a try.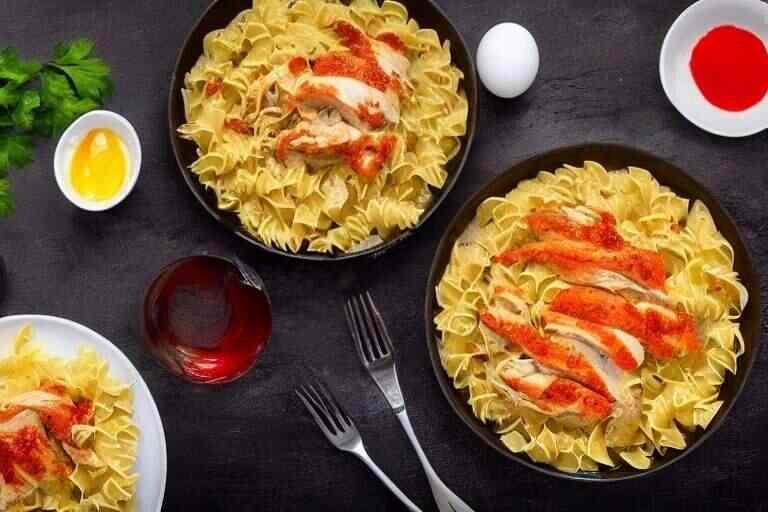 Savor the Irresistible Chicken Paprikash Delight: A 5-Star Comfort Feast!"
Description
Indulge in the heartwarming flavors of Chicken Paprikash! This classic dish will transport you to culinary bliss with its rich, creamy sauce and tender chicken.
Instructions
How to make Chicken Paprikash:

Chicken Paprikash is a delightful Hungarian dish known for its rich paprika-infused sauce. Follow these steps to make it at home:

Start with seasoning the chicken pieces with salt and pepper.
In a large skillet, melt butter over medium heat.
Add diced onions and cook until softened and translucent.
Stir in sweet paprika and cook for a minute until fragrant.
Add the chicken pieces to the skillet and brown them on all sides.
Pour in chicken broth, cover, and let it simmer for about 25 minutes until the chicken is cooked through and tender.
In a separate bowl, whisk together sour cream and flour until smooth.
Slowly add the sour cream mixture to the skillet, stirring constantly to prevent curdling.
Allow the sauce to thicken for a few minutes.
Adjust seasoning with salt and more paprika if needed.
Serve the Chicken Paprikash over cooked egg noodles and garnish with chopped parsley.
Don'ts: • Don't let the sour cream mixture boil vigorously to prevent curdling. •Don't skip browning the chicken; it adds flavor to the dish.
•You can use chicken breasts or a combination of thighs and breasts. •Adjust the amount of paprika to suit your spice preference.
Serving Size 4
---
Amount Per Serving

% Daily Value *

Total Fat 22g

34

%

Saturated Fat 11g

56

%

Cholesterol 140mg

47

%

Sodium 480mg

20

%

Total Carbohydrate 15g

5

%

Dietary Fiber 2g

8

%

Sugars 4g

Protein 30g

60

%
---
* Percent Daily Values are based on a 2,000 calorie diet. Your daily value may be higher or lower depending on your calorie needs.